California Mature Driver Improvement Course
Road Review is APPROVED
by the California Department of Motor Vehicles – ID#MO369
Car Insurance Discount
Upon course completion, qualified California drivers 55+ are eligible for a car insurance discount.
No Hidden Fees
You only pay the price you see. We believe in transparency.
Certificate of Completion
Your official California DMV certificate will be mailed to you upon course completion, at no extra charge.
Customer Support
Phone and email support available. Get assistance from a real live person.
Car Insurance Discount
Mature drivers, 55 or older, who successfully complete Road Review can qualify for reduced car insurance premiums. California law allows insurance companies to determine the percentage of premium reduction. You may wish to ask your insurance company about your eligibility and the amount of discount.
Purpose
This CA DMV approved mature driver course provides instruction on defensive driving and California motor vehicle laws. During this course, information is provided on, but not limited to, updates on rules of the road, the effects that medication, fatigue, alcohol, visual or auditory limitations have on a person's driving ability.
Benefits

• Save up to 15% on Your Car Insurance!
• Discount and Certificate Good for 3 Years
• Average Savings of $500 on Car Insurance
• Completely Online!
• Accessible 24/7 – On ALL Devices
• Course Never Expires – No Completion Deadline
• Unlimited Logins
• Videos are Closed Captioned
• Certificate Mailed to You at No Extra Cost
Course Length

Basic (first-time students): 400 minutes
Refresher (repeating students): 240 minutes
We know your time is valuable and we respect that. To meet the time requirements mandated by the California DMV, each topic will have a predetermined timer to ensure you spend the required amount of time on the course. Road Review can be completed at your own leisure. You will have the ability to log in and out as often as you choose. Your progress will be saved, and you can pick up where you left off.
Course Highlights
• Your health and driving performance
• The effects of medications and alcohol on driving
• Yielding and intersections
• Strategies for safe passing and managing your speed
• Keeping up with vehicle technology
• Preventative ways to reduce driver distractions
• Proper use of safety belts, air bags, and anti-lock brakes
• Defensive driving tactics and sharing the road
• Dealing with aggressive drivers and road rage situations
• Latest information on traffic laws and regulations
*Road Review course is approved by the CA DMV with otherwise no affiliation. Logo appears with CA DMV's permission.
Online Driver Course
For Seniors 55+
Self-Paced
Complete at your own leisure
Secure Online Payment
PayPal, Credit Card, Debit Card
Email and Phone Support
Stuck? Call or Email!
Why Take the CA Accident Prevention Course?
Getting older doesn't automatically mean you are turning into a bad driver. The experience that you've gained over the many years of driving can be key to keeping you safe on the road. Over the years, you've also acquire many good driving habits. Unfortunately, changes in traffic laws, a natural decline in your cognitive and physical fitness, along with new vehicle design and technology, may cause some of your good driving habits to "go bad." Our CA defensive driving course is specifically designed for drivers aged 55 and up, to address these concerns and more. As an additional bonus, you can qualify to receive a discount on your car insurance premium. California State Law mandates a 3 year discount for all qualifying drivers.
What Will You Learn?
• The effects of aging on your driving.
• Driver problem areas such as yielding the right of way, speeding, following distances, sharing the road, road signs, and signals.
• What effects medications and alcohol can have on your driving.
• How to limit your distractions.
• The importance of maintaining a safe vehicle.
• How to properly use safety restraints (seat belts, air bags).
• And much more.

The Best Online Mature Driver Course in California.
User-Friendly Design
Simple is better. You don't need to be a computer expert to navigate through our program. It's as easy as clicking one button. One button…that's it! No confusing directions or hard to locate controls. Watch or read the lesson topic, then click the blue 'Mark Complete' button located directly below the material. Your course progression is automatically saved and you advance to the next topic. It really is simple!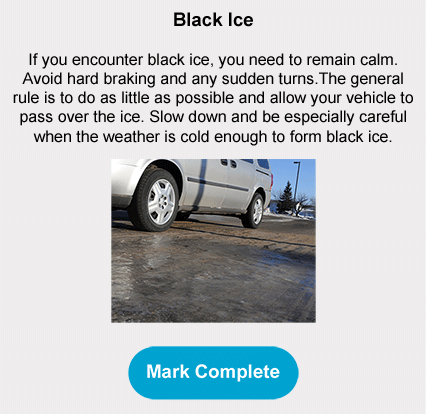 Animated Graphics
We combine moving graphics, still images, and full-length videos to make our material interesting and easy to comprehend. Watching an airbag deployment gives you a better, more memorable experience than simply reading about it. They say "a picture is worth a thousand words."
Videos with Closed Captioning
Even if you have excellent hearing, it's sometimes easy to follow a video when you can read along with it. Every video segment includes synced and accurate English closed captioning.Topics range from situation awareness scenarios, driver safety assessment, to professional interviews with real people.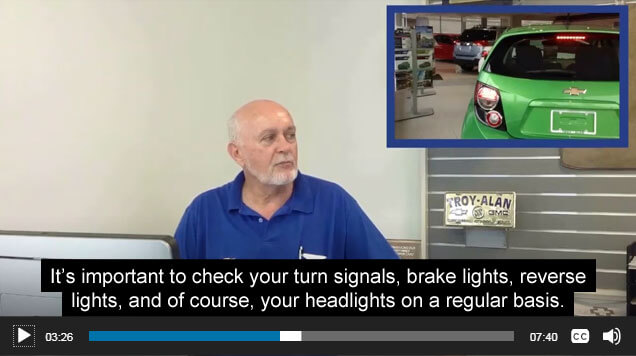 Mobile Compatible
Road Review is compatible with your laptop, desktop, smart tv, or any mobile device. Start the course on your desktop, finish on your smartphone or tablet…the choice is yours. Nothing to download or install and no confusing prerequisites. Simply put, our course works!
Automatic Progress Tracking
Our mature driver course keeps track of your progress automatically and knows where you left off. No need to repeat content when you return. You can start and stop the program as often as you need to without losing your progress. When you see a green check mark or circle, it means you have completed the topic or lesson. No difficult buttons to remember to click. Enjoy the material and let us do the rest!
Frequently Asked Questions
How much money will I save on my car insurance?
Most people save around $200 or more. The State of California mandates a minimum 3 year discount for all qualifying drivers. Your policy details and insurance provider will determine the discount percentage received.
How will I get my certificate of completion?
After successfully completing the course, your official California DMV completion certificate will be mailed to you via the United States Postal Service.
How will I get my insurance discount?
Simply submit your certificate to your insurance agent to verify that you passed. As soon as your agent gets your certificate, you'll get your discount.
Who is eligible to take the course and get the discount?
Licensed CA drivers 55 and older are eligible to take our CA defensive driving course.
How long is the CA mature driver program?
We offer the shortest program allowed. Per CA Department Of Motor Vehicle requirements, our refresher program is 240 minutes in length, our basic program is 400 minutes in length.
What happens if I fail the final exam?
You can retake the final exam as many times as needed, at no extra cost.
How long is the course

certificate

and insurance rate reduction good for?
Under California Law, the mature driver improvement course certificate and rate reduction are good for 3 years.
Stay safe on the road. Keep money in your pocket.
You are one click away from lowering your car insurance and becoming a safer more confident driver.
4 Easy Steps
Step 1 – Enroll in our Online Mature Driver Improvement Course
Step 2 – Complete Course at your own leisure
Step 3 – Receive Certificate of Completion
Step 4 – Start saving on your auto insurance policy!
Support Hours
Eastern Standard Time Mon-Fri 9 AM to 3 PM Sat-Sun Email Only
For assistance during business hours, call (800) 559-2580. Use our contact form to send us a message after hours.